I am embarrassed to say it's been almost 5 months since I have worked on this. Guess I got burnt out a bit. But it is back. And I am very happy.
Teresa Wentzler's Tradewinds
Completed model: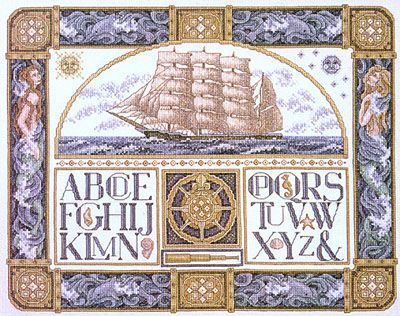 My photos show it lighter than the original model. I wish you could see it in person - the model picture nor mine really do it justice - the colors are gorgeous and much more vibrant than what they look like in this post. And yes, my clouds do stand out more too then how they look here.
As of 03/07/2013: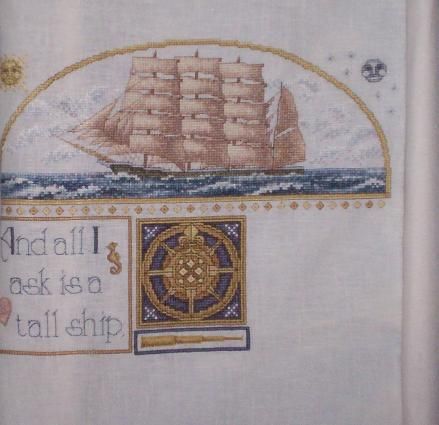 As of today, after 3 hrs worth of work - telescope outlined, 2nd block somewhat close to being completed: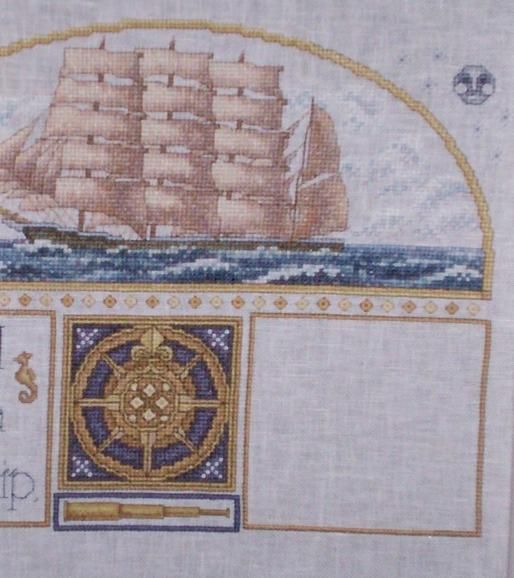 2nd block will read: And a star to steer her by (with 3 various shells intermixed)
Next will come the border - using another conversion for the mermaids - they will be done over 1.
Using recommended threads - linen by DMC (it's a slight off-white, doesn't show well in the photos). This will be the first piece I will have professionally framed.
Post script: I did do some more stitching on Quaker Motifs last night - think that has given me the gusto to work on Tradewinds again. I tried knitting - I honestly did. I completed 1 measly row (240 stitches) and my hands went nope. Pick up your stitching. Glad I did too :)