Model Image - Apple Pickin' - Lynn's Prints / Diane Graebner






Have you ever had a pattern stuck in your mind that won't let go? Well, of late, Apple Pickin' by Lynn's Print / Diane Graebner has been floating in and out of my braincell the past few days. I bought the pattern last year and even started it - the tree branch if memory serves me right - but I put it up as I had other more pressing things to do - plus the size was larger than I expected it to be. Of course, doing it on 28 ct Monaco vs. 18 ct linen may have something to do with it (not by much I know).
For some reason, I placed the original pattern in it's shipping envelope (thank you 123Stitch :) up on my closet shelf. I know it's been sitting there for some time but I took it down the other day and looked it over. It is such a pretty and joyful design, I wonder why I haven't gotten back to it yet (I think I have startitis again as more and more designs are calling to me - NOT a good thing!).
I am not sure if I want to purchase hand-dyed fabric for it or take another go at painting fabric myself. I did it once for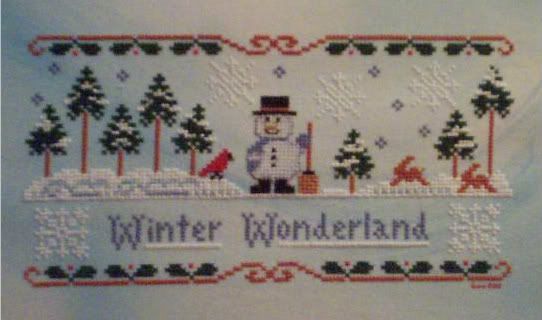 Winter Wonderland by LHN and I really like the way it turned out (sorry for the dark & out-of-focus pic). The one thing that bothered me about painting is that some places had the paint too thick so it was somewhat hard to get the needle through. I think if I do paint a fabric for Apple Pickin', I want to use darker colors so the washes of them will show up better.
I've also been looking at other hand-painted fabric that is for sale by others and it's really difficult to decide. I like SunnyDyesFabrics'
Autumn Meadow
as that is sort of the look I want but I am not sure about the sky color - I would like it a bit brighter blue.
Faerie's Meadow
is another one but I think the green dress may not look so good on it?
Sky Meadow
is gorgeous but I am not sure if an apple orchard would look right in that setting. UnderTheSeaFabrics has
Fairy Fields
but I think it is too dark overall even though it is lovely as well. I don't know. I'll have to pull all the colors and maybe do some paint swatches to come up with something similar for a floss toss to see what I like best. And then go from there. Any suggestions anyone has would be welcome!
As for other stitching updates - I've gone from 1.5" of skirt length to 4" of skirt length on the Muti dress and I did get in some more stitching on Quaker Motifs. Hope to post some pics tomorrow.
Thanks for stopping by and all the nice comments too :) They are very heart-warming to receive!