Meet Muti. This is a lovely looking dress available at Ravelry.com (I get no kickbacks from stating this.)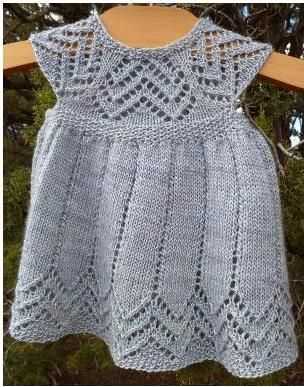 Not my color preference but it is lacy looking, just what I wanted. Since I've done more crocheting than I can think of (got burnt out on it), I figured maybe after only getting serious about knitting for about 4-5 months, sure I could tackle this - using fingering weight yarn. Hey, if I can crochet with 10 to 20 ct. thread, this shouldn't be too difficult.
Right.
This is my first dress:
We won't mention how many times I had to restart this bloomin' thing - not to count how many rows I had to take out and put back on? Oh, and of course, I had to play with the colors too. Smart. I don't want to think about how many yarn ends I have to weave in....
Wimper. Stupid is as stupid does. wimper.
This is my 2nd dress:
This wasn't so bad going the 2nd time around - until my tendonitis in my right hand flared up yesterday - so now I can't really knit as I have to wear a stupid brace on my hand (not wearing it right now - I get some really weird and embarrassing mistakes in my typing when I do). Oh, and it's a really pretty soft yellow - not that mucky ugly mustard thingy it's got going on in this picture.
Why are you doing 2 dresses if it was such a pain the first time around? Well, good question.
I have a lovely friend who's youngest daughter is expecting fraternal twin girls towards the end of August this year. Neither of them know I am doing this (they don't know about my blog either). Hope I can get it done in time.